Prague, 8 December 2005 (RFE/RL) -- Saddam Hussein's refusal to appear in court on 7 December was the most dramatic twist in the five days of public proceedings held so far in the trial, which began on 19 October. Many ordinary Iraqis say Hussein's boycott made Chief Judge Rizgar Muhammad Amin look weak and damaged the court's reputation. "He should be obliged to show up in the court," says Baghdad resident Hassan Waleed of the deposed Iraqi leader. "The Kurdish judge should be tougher with him."
Similar views are expressed by Muhammad Ali, another Baghdad resident. "The court is not strong. The fact that Saddam did not show up in court means Saddam is still strong. He imposes his will on the court. How can a prisoner impose his will on the court?" Ali asks. "If it is a real court, they should force him to stand -- even by using force. And nobody [should be allowed to make such outbursts] in the
"They should begin the trial of Saddam's more notorious cases instead. They should spare us from these unfamiliar things."
court."
On several occasions this week, Hussein accused the court of being "made in America" and of being determined to execute him. It is an accusation often repeated by members of the Sunni Arab minority, of which Hussein is a member.
Members of Iraq's Shi'ite community largely take a different view. On 4 December, just hours before testimony by the first witness in the case, Shi'ite tribal leaders from southern and central Iraq gathered to demonstrate against Hussein near Baghdad's high-security Green Zone, where the trial is taking place.
"We want Saddam and his deputies to be executed because he has offended Islam [through his crimes]. He never did anything according to Islamic law," said Gaber Frayeh Mosavi, a tribal leader from Al-Najaf who attended the demonstration.
Mosavi called for Hussein's execution, the sentence that Hussein and his seven co-defendants face if found guilty.
Saddam's defense team argued this week that the special Iraqi tribunal is not a legitimate venue for a trial for mass murder. Instead, the defense called for hearings by an international tribunal.
Saya Chaalak, a female engineer in Irbil, the capital of the Kurdistan region in northern Iraq, agrees the trial would be more legitimate if conducted by an international tribunal. "As an Iraqi citizen of Kurdistan, it is true that I lived through the era of Saddam's regime," she says. "But because I support human rights […] I would like the trial of Saddam to be conducted according to international law. That would be more convincing -- better and acceptable to the international community and not only Iraq."
But Chaalak's remarks appear to reflect a minority viewpoint, at least among the Shi'ite and Kurdish communities of Iraq that suffered decades of repression under Hussein's regime.
Aamir Abdullah, a university student in Irbil, is among the many who believe it is right to hold the trial in an Iraqi court under Iraqi law. "It must be conducted only according to Iraqi laws," he says.
But Abdullah questions why the first case against Saddam is for a massacre -- in the village of Al-Dujayl -- in which 148 people were killed. "They should begin the trial of Saddam's more notorious cases instead. They should spare us from these unfamiliar things."
Abdullah, who believes "the trial should take less time," says Hussein should first have been put on trial for using chemical weapons against thousands of Kurds in northern Iraq or for killing thousands of Shi'a in the south.
Speaking from Sweden, the exiled Iraqi attorney Zuhir Kadhim Aboud says there is no question about the legitimacy of the special Iraqi court.
"First, the legitimacy of the court is based on its composition of real lawyers and judges. It is not a fictitious court like those of Saddam's era," he continues, pointing out that one of Hussein's co-defendents, Awad al-Bandar, was the chief justice of the former regime's Revolutionary Court. "He didn't know anything about justice. He had never been a judge before in his life, and there were no true judges in any of the special courts of the Saddam era. They were only wearing the robes of judges and issuing decisions to execute Iraqis. But this court has been established legally according to proper judicial mechanisms."
As the trial proceeds, the interest of ordinary Iraqis appears to be waning.
"Public interest in the trial has decreased since the first session, which was very exciting and attracted a lot of attention," says Nabil al-Haidari, Radio Free Iraq's Baghdad bureau chief. In October, when the trial began, the trial brought crowds onto the streets and exceptional security measures resulted in traffic jams forming, mainly in central Baghdad and along the main roads of the capital.
Many members of Iraq's Shi'ite, Kurdish, and Sunni Arab communities now say the court proceedings appear to be more of a public performance than a criminal trial. And from all communities, Iraqis say they expect many more delays.
(Radio Free Iraq contributed to this report.)
Saddam Hussein Biography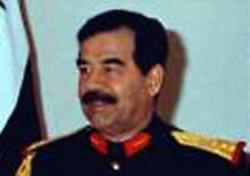 For a timeline of former Iraqi President Saddam Hussein's life from his rise within the ranks of the Ba'ath Party and the Revolution Command Council to his regime's ruthless persecution of perceived enemies at home and abroad, click here.