U.S. Says Iran Close To Nuclear Arms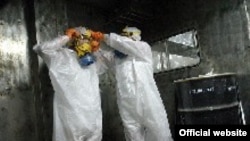 Iranian nuclear workers (file photo) (official site) 9 December 2005 -- The U.S. State Department warned today that Iran could soon produce nuclear weapons and that UN sanctions may not deter the government in Tehran.
Robert Joseph, undersecretary of state for arms control and international security, did not say how long Washington believes it will take Iran to build nuclear weapons.
But Joseph said Iran is determined to get such weapons and needs just one final step -- enriching uranium -- to be able to build them.
Joseph said the United States is still relying on diplomacy to deter Iran, which denies seeking nuclear weapons.
Joseph also reiterated that Washington for now is holding off seeking UN sanctions against Iran in a bid to get Russia and China to help curb Tehran's nuclear ambitions.
(AP)

SUBSCRIBE For regular news and analysis on Iran by e-mail,
subscribe to "RFE/RL Iran Report."