Milosevic Seeks Leave For Health Checks In Russia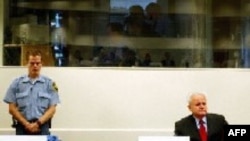 Milosevic on trial (file photo) (AFP) 12 December 2005 -- Former Yugoslav President Slobodan Milosevic today asked judges at the UN war crimes tribunal in The Hague to permit him to undergo medical checks in Russia during the court's winter recess.
The presiding judge, Patrick Robinson, said that, to be considered, the request must be made in writing with adequate guarantees.
Milosevic suffers from a heart condition and high blood pressure, which have slowed down his trial, now in its fourth year.
Milosevic is charged with genocide, crimes against humanity, and war crimes committed during wars in Bosnia, Croatia, and Kosovo in the 1990s. He has been held in the court's maximum security detention center since 2001.
(Reuters/AP)

SUBSCRIBE
For a regular review of politics, media, and RFE/RL broadcasts in the western Balkans,
subscribe to "RFE/RL Balkan Report."