Iraqi Government Says More Prisoners Abused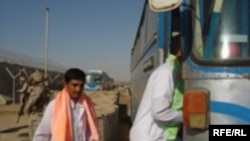 Prisoners release from Abu Ghurayb, September 2005 (file photo) (RFE/RL) 12 December 2005 -- Iraq's government today said that 13 prisoners found in a Baghdad jail show signs of abuse.
The prison is operated by Iraq's Interior Ministry.
The government says it is investigating whether the detainees were abused while in government custody.
The Iraqi government has been facing pressure over its rights record since November, when U.S. troops found a secret prison run by the Interior Ministry. The prison held 173 prisoners, many of whom said they had been tortured.
(Reuters)