EU Lifts Travel Ban For Some Transdniester Officials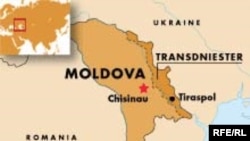 An EU-imposed travel bans remains in place on 17 people accused of obstructing settlement talks with Moldova (RFE/RL) 12 December 2005 -- European Union foreign ministers today lifted travel restrictions on eight people from the breakaway Moldovan region of Transdniester who were accused of waging a campaign of intimidation against Moldovan-language schools.
In a statement, the EU said the situation for Moldovan-language teachers, parents, and students in the pro-Russian Transdniester region has improved considerably.
However, the visa ban will remain in place for two other people from the town of Ribnitsa, where the EU said Moldovan language students are still forced to study in temporary premises.
The EU maintains a travel ban on 17 members of the Transdniester leadership for obstructing efforts to negotiate a settlement with Moldova's authorities.
(AP)

RFE/RL Belarus, Ukraine, And Moldova Report

SUBSCRIBE For weekly news and analysis on Belarus, Ukraine, and Moldova by e-mail,
subscribe to "RFE/RL Belarus, Ukraine, And Moldova Report."