Iraqi President Will Not Seek Reelection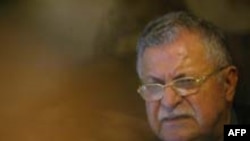 Jalal Talabani, Iraq's president (file photo) (AFP) 13 December 2005 -- Iraqi President Jalal Talabani says he will not seek a second presidential mandate after this week's parliamentary election.
In his statement, Talabani said he would not want to be a "president of protocol."
He said that, under the new constitution, the president has "no power to participate in the running of the state."
Talabani became president after the election in January of an interim assembly. A new constitution was adopted in October.
Iraq goes to the polls on 15 December to elect a full-term parliament, whose task it will be to appoint a president.
Talabani's Patriotic Union of Kurdistan is one of Iraq's two main Kurdish parties. It is expected to be a major player in the new assembly formed after the vote.
(Reuters/AFP)