Prague, 13 December 2005 (RFE/RL) -- The acting president of RFE/RL, Jeff Trimble, called the Uzbek government's decision "yet another attack by the [President Islam] Karimov government on the basic human rights of the Uzbek people."
Trimble said RFE/RL will continue to report accurately and objectively about events in Uzbekistan. "This unwarranted action by Uzbek authorities further erodes the already dismal state of free speech in Uzbekistan and is yet another attack by the Karimov government on the basic human rights of the Uzbek people," he said. "While hindered, RFE/RL will not be deterred in its efforts to report accurately and objectively about events in Uzbekistan to the people of that country and throughout Central Asia and the rest of our broadcast region."
RFE/RL has operated in Uzbekistan's restricted media environment since 1996. It has found itself under increasing pressure from the government, however, since the brutal crackdown on protesters in the city of Andijon on 13 May.
RFE/RL correspondents covered the unrest, during which rights groups allege that hundreds of civilian demonstrators were killed by Uzbek government forces. RFE/RL correspondents and other foreign journalists were expelled from Andijon in the following days.
"Today, we lost not only a very good professional team of journalists of Radio Liberty. The people of Uzbekistan also lost the last platform to express an alternative view on what is going on in the country." -- Galima Bukharbaeva
RFE/RL journalists have long faced harassment and persecution while working in Uzbekistan. Most recently, in August, Nosir Zokir, an RFE/RL correspondent in Namangan, was jailed for six months on charges of insulting police officers. Rights activists, including Human Rights Watch, said the charges were fabricated and politically motivated.
Dozens of other RFE/RL correspondents and their families in Uzbekistan have received threatening phone calls, been interrogated by security officers, had recording equipment confiscated, or been physically assaulted.
In September, during the trial of 15 men accused of organizing the Andijon unrest, Uzbek prosecutors blamed correspondents for RFE/RL -- as well as those of the BBC, The Associated Press, and Deutsche Welle -- for "assisting terrorists in an antigovernment plot."
The most recent rhetoric came from Karimov during Constitution Day celebrations in Tashkent last week: "Who disseminated this slander [about Uzbekistan] around the world? You have seen it yourselves. The strong rule the world these days. The one who controls media, who controls information space, and has levers to influence others, rules the world. Meanwhile, we remain so weak."
In late October, the BBC announced that it was closing its Tashkent bureau because of the harassment and persecution of its staff. At least seven BBC journalists have fled or been forced to leave Uzbekistan, including foreign correspondent Monica Whitlock. At least two Uzbek members of the BBC's staff have received political asylum.
"The reason really that was given by the BBC, by the World Service, was that this was done for concerns over security," Johannes Dell of the BBC's World Service explained. "And I think what the BBC has made clear at the time when the BBC office was closed, that over the last four months, up to the closure, effectively since the unrest in Andijon, that BBC staff in Uzbekistan were subjected to harassment and intimidation, which basically made it extremely difficult for our reporter team to report what's happening in the country, as you would expect them to do it."
Internews is a U.S.-based media-development organization that first began working in Uzbekistan in 1995. It was forced to close its Tashkent office in October following a yearlong battle in the Uzbek courts on charges including "conspiring to publish information and producing TV programs without the necessary licenses."
Correspondents from the London-based Institute for War and Peace Reporting (IWPR) were also persecuted. The IWPR's Uzbek-language website was blocked and contributors were forced to flee the country, among them country director Galima Bukharbaeva.
Speaking to RFE/RL from the United States, where she sought refuge, Bukharbaeva called RFE/RL the last remaining platform of objective information in Uzbekistan. "Today, we lost not only a very good professional team of journalists of Radio Liberty. The people of Uzbekistan also lost the last platform to express an alternative view on what is going on in the country," she said. "The people lost not only a source of good information, but also a refuge, a place where they could always come and tell about their concerns and find support."
The Uzbek Foreign Ministry said its decision to suspend accreditation to RFE/RL's Tashkent bureau and the journalists working there was based on the fact that RFE/RL had recruited "so-called non-staff correspondents ('stringers') who engaged in journalistic activity without accreditation" by the Foreign Ministry, in violation of Uzbek media laws.
Peter Noorlander, however, questions the decision. He is a lawyer for Article 19, a London-based human rights organization that focuses on the defense and promotion of freedom of expression worldwide. "If such a law exists, then it is completely in violation of international law on the right of freedom of expression," he told RFE/RL. "If you look at other countries' radio stations, newspapers, they use freelancers all the time, who do not need to obtain the license or who do not need to be registered. So I would say that the actions of the Uzbek government are highly questionable."
Following the popular uprisings that brought down governments in Georgia, Ukraine, and Kyrgyzstan, Uzbek authorities have cracked down on foreign nongovernmental organizations, especially those supporting the development of democracy.
Last year, the Uzbek government expelled the Open Society Institute, which promotes free media and education programs. In September, the activities of another foreign NGO, the International Research & Exchanges Board (IREX), were suspended for six months for allegedly conducting activities not in line with its charter.
(Farruh Yusupov and Shukhrat Babajanov of RFE/RL's Uzbek Service contributed to this report.)
Uzbekistan's Ambassador To Tajikistan
Uzbekistan's Ambassador To Tajikistan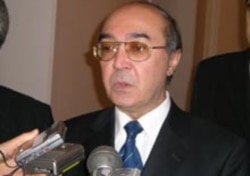 SHOQOSIM SHOISLOMOV, Uzbek ambassador to Tajikistan, spoke with RFE/RL Uzbek Service correspondent Habibullo Botirov on 14 December in the Tajik capital Dushanbe at a conference called the Forum For The Prevention Of Conflicts In Central Asia.
RFE/RL: Mr. Ambassador, at the opening session of this forum, you gave a speech and said that international organizations do not know the region of Central Asia very well and they often make wrong assessments of events in the region. What can you add to that statement?
Shoislomov: Yes, it is true that the region has many problems. But unfortunately, most employees of international organizations have never lived here. They don't know our life, our traditions, and customs. They don't have a deep knowledge [of the region]. Therefore, in their [reports], they portrait us as underdeveloped and backward. [Although], we can teach them 10 times more than they can teach us. There is such a thing as competency. They lack competency. These shallow opinions of theirs get reflected in some documents. They stigmatize us. Of course, we can never accept the stigma. One should think before putting opinions on paper.
The Central Asian states have 1,000 years of history. We face the hardest task in the war against religious extremism. When [the West] says it fights against religious extremism, they mean Islam. They try to portray our religion, Islam, from an absolutely different perspective in the world. In their opinion, Islam is an extremist religion. They try to say that it is a religion that goes against the West, against the whole world. Unfortunately, people in Western countries may accept these cliche.
RFE/RL: Erbol Shaimardanov, adviser to Kazakhstan's foreign minister, and some other participants said in their opening statements that Hizb ut-Tahrir has been included in the list of terrorist organizations. However, the organization can operate freely in some countries. How would you comment on this?
Shoislomov: It's a very correct question. If you want to fight against religious extremism, you should start with Hizb ut-Tahrir. But look at England itself. This summer it became a target of terrorist attacks. Hizb ut-Tahrir has its headquarter in London. [The British government] has given complete freedom to them. How can you understand it? We [the Uzbek government] has offered to everybody to fight against Hizb ut-Tahrir. As you see, many states have made a correct assessment of Hizb ut-Tahrir. But there are some governments, which consider themselves democratic, who gave complete freedom to Hizb ut-Tahrir. How can we treat an organization that comes from those countries and plot terrorist attacks on our territory? It's difficult to understand this. And they try to blame us for something.
See also:
Hizb Ut-Tahrir Challenges U.K. Government's Proposed Ban With Offer Of Dialogue
Uzbek Ties With Kyrgyzstan Worsen Amid 'Terror' Accusations
Uzbek Security Service Steps Up Work In Neighboring Countries