Uzbekistan Jails Another 25 Over Andijon Events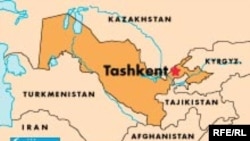 (RFE/RL) Tashkent, 5 December 2005 (RFE/RL) -- Uzbekistan has jailed another 25 people in connection to the uprising in the eastern Uzbek city of Andijon in May, RFE/RL's Uzbek Service reported.
The Uzbek Supreme Court today said that the 25 were convicted in two separate closed trials that ended on 2 December. The defendants were sentenced to jail terms ranging from 12 to 22 years.
Last month, the court jailed 15 people accused of involvement in the Andijon unrest to similar jail terms.
Those jailed have been accused of crimes including murder, terrorism, belonging to outlawed Islamic groups, and attempting to overthrow the government.
Uzbek authorities say 187 people, mostly terrorists, were killed in the Andijon uprising. Rights advocates estimate the death toll to be much higher, with civilians numbering among the dead.
(with Reuters)


A dedicated webpage bringing together all of RFE/RL's coverage of the events in Andijon, Uzbekistan, in May 2005 and their continuing repercussions.
CHRONOLOGY
An
annotated timeline
of the Andijon events and their repercussions.