Polish Police Accused Of Beating Chechen Refugees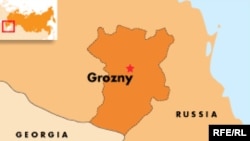 More than 3,000 Chechens are seeking asylum in Poland (RFE/RL) 13 December 2005 -- Chechen pro-independence media today slammed Polish law enforcement agencies for allegedly raiding a reception center for Chechen asylum seekers in the eastern city of Lublin.
The Western-based Kavkaz-Tsenter and Daymokh information websites said the incident occurred on 11 December. They claim Polish special police forces beat up asylum seekers after cordoning off the premises. When they eventually left, the security forces allegedly hauled away three men.
The websites quote eyewitnesses as saying police claimed they were looking for explosives intended for terrorist attacks in Poland.
Polish authorities have not commented on the reports, which could not be independently confirmed. Poland is home to an estimated 3,500 asylum seekers from Chechnya, who live in 16 reception centers.

(Kavkaz-Tsenter/Daymokh)


RFE/RL's complete coverage of Russia's war-torn Republic of Chechnya.
CHRONOLOGY
An
annotated timeline
of the Chechnya conflict.