Washington, 14 December 2005 (RFE/RL) – The U.S. secretary of state delivered a mostly positive review of international efforts to support nation building in Iraq.
Rice said 22,000 coalition security forces remain active in Iraq and singled out countries like Poland, Romania, and Bosnia-Herzegovina for their contributions. She cited NATO training efforts, the Arab League's acceptance of Iraq, World Bank loans, and UN Security Council resolutions endorsing Iraq's stabilization efforts.
It is all part of a new international consensus, Rice said, on securing democracy in Iraq at a time of crucial parliamentary elections this week.
"In just two days, when Iraqis make history by electing the most democratic leaders in the entire Middle East, they will do so with the moral and financial and diplomatic backing of an overwhelming majority of the world. This is remarkable when you consider how sharply divided the world was only three years ago," Rice said.
But Rice also expressed disappointment that the international community has not backed the war crimes trial now under way of Hussein and his top associates.
Hussein's prosecution lacks the key backing of the United Nations, mostly because of Iraq's reinstatement of the death penalty, which the UN opposes. Security concerns are another factor in the absence of international experts. U.S. and British officials have provided the main guidance to Iraqi jurists.
Rice said the lack of international support is hampering Iraqi efforts to find justice after decades of brutal dictatorship. "All who express their devotion to human rights and the rule of law have a special obligation to help the Iraqis bring to justice one of the world's most murderous tyrants," she said. "The international community's effective boycott of Saddam's trial is only harming the Iraqi people who are now working to secure the hope of justice and freedom that Saddam long denied them."
Rice also repeated U.S. allegations that Syria is permitting the transit of terrorists into Iraq. She directed her sharpest comments at Iran for its alleged meddling in Iraq. Rice cited British concerns about Iran exporting explosives technology to Iraq. Without giving specifics, she said Iran is seeking to be involved in "nontransparent ways" in the politics of Iraq.
U.S. officials have repeatedly expressed concerns that Iran is working to undermine democratic reform efforts in Iraq, as well as in Lebanon and the Palestinian territories, through support of proxies. Rice said it is time for greater international action to counter this. "I do think that it has to be said, it has to be spoken, that Iran is a problem for a stable and democratizing Middle East, and the international community will have to find a way to deal with that," she said.
The United States, which does not have diplomatic relations with Iran, has been working closely with European Union negotiators to resolve a crisis over Iran's nuclear-energy program. Washington is concerned that the clandestine nature of the program signals Tehran's intentions to develop nuclear weapons.
As Rice was speaking yesterday, Iraqis outside their country were casting the first ballots in elections for the 275-seat National Assembly. More than 1 million Iraqis are eligible to vote abroad, about one-quarter of them in the United States.
At one polling center in a hotel near Washington, scores of Iraqis flowed in early yesterday amid a festive mood. Voter Daud Abdul Rahman, speaking to Reuters, typified the comments.
"It is a turning point in the Iraqi history, the first time people elect their government freely," he said. "I believe that, yes, there is some difficulty in the beginning of changing the style of creating a new government, but step by step, the Iraqis will go forward and develop. By the end, the freedom will win."
Another Iraqi casting votes at the polling station was Qubad Talabani, son of Iraqi President Jalal Talabani. The younger Talabani, who represents the Iraqi Kurdistan regional government in Washington, told RFE/RL that Kurds have been buoyed by a series of recent policy speeches on Iraqi given by U.S. President George W. Bush.
"There were some concerns from certain circles within Iraqi society because of the debate in the United States, because of the debate among the United States Congress, that there could be a wavering of this commitment. But I think the president put the record straight, and the United States is committed to seeing this process through to the end," Qubad Talabani said.
Rice's speech yesterday followed three speeches Bush has delivered on Iraq ahead of the election. Bush is due to give his final preelection speech today.
Saddam Hussein Biography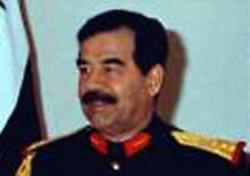 For a timeline of former Iraqi President Saddam Hussein's life from his rise within the ranks of the Ba'ath Party and the Revolution Command Council to his regime's ruthless persecution of perceived enemies at home and abroad, click here.