Shops, schools, banks, and cafes were closed as a five-day holiday began yesterday as part of security steps. Police were enforcing a traffic ban, while borders and airports were also closed.
In northern Mosul, however, hospital sources say two police officers were killed and four others injured by a roadside bomb.
Yesterday, the U.S. military said a roadside bomb killed four U.S. soldiers in northwest Baghdad. In Al-Ramadi, gunmen assassinated a prominent Sunni Arab candidate.
Tomorrow's polls for the 275-member National Assembly, which would serve for the next four years, will be the third major vote in Iraq this year. The first was in January for an interim government and the second was an October referendum on a new constitution.
Outside Iraq, tens of thousands of Iraqi expatriates cast ballots yesterday in 15 countries in the Middle East, Western Europe, North America, and Australia.
(AFP/AP)
Iraqi Election Poster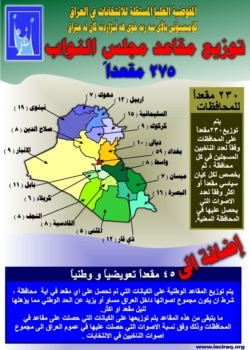 Click on the poster for an enlarged image.
The Iraqi Independent Electoral Commission issued posters in Arabic and the two dialects of Kurdish on the allocation of National Assembly seats by governorate for the 15 December National Assembly election. The poster says, "230 seats for the governorates, as well as 45 compensatory and national seats," while the corresponding map shows the breakdown of seats by governorate.
For more background on the election, click here .



For a complete archive of RFE/RL coverage, background, and analysis of the December 15, 2005, legislative elections, click here.