Macedonia Pleads For French Support For Its EU Bid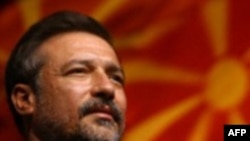 Macedonian President Crvenkovski (file photo) (AFP) 14 December 2005 -- Macedonian President Branko Crvenkovski is pleading for Paris to end its opposition to the Balkan country's being invited to become a candidate for EU accession.
In a letter sent on 14 December to his French counterpart, Jacques Chirac, Crvenkovski says Skopje "fully understands" the problems that Brussels is facing.
But, he added, giving Macedonia the opportunity to join the EU would be a "victory" for Europe.
The appeal came ahead of a summit of EU leaders on 15 December, at which Macedonia was hoping to be granted the official status of a candidate for EU membership.
France has emerged as the most vocal opponent of Macedonia's official candidacy. It argues that a decision should be delayed while the 25-member bloc struggles to reach an agreement about a budget for 2007-13.
(AFP)