New York-based Human Rights Watch (HRW) detailed what it termed as "credible allegations" that Interior Minister Mostafa Pour-Mohammadi and Intelligence Minister Hojatoleslam Gholam Hussein Mohseni-Ejei had been involved in "terrible crimes."
Pour-Mohammadi was top deputy at the Ministry of Intelligence from 1987 to 1999.
Joe Stork, deputy Middle East director at HRW, said agents of the ministry systematically engaged in extrajudicial killings of opposition figures, political activists, and intellectuals.
Pour-Mohammadi was also a member of the committee that ordered the summary executions of prisoners in Tehran's Evin prison in 1988.
HRW said Ejei should be investigated for possible involvement in the kidnapping and killing of Pirouz Davani, a dissident and political activist, in 1998.
(AFP)
The Structure Of Iran's Government
The Structure Of Iran's Government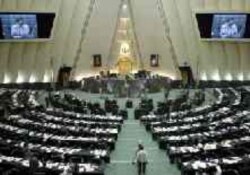 INSIDE THE ISLAMIC REPUBLIC: Iran is a theocratic Islamic republic governed under a 1979 constitution that was revised in 1989, when presidential powers were expanded and the prime minister's post was abolished.
Appointed -- not elected -- offices and bodies hold the real power in the government. The supreme leader, who serves as a chief of state would, is appointed for life by an Islamic religious advisory board that is called the Assembly of Experts. The supreme leader oversees the military as well as the judiciary and appoints members of the Guardians Council and the Expediency Council.
The Guardians Council -- some of whose members are appointed by the judiciary and approved by the parliament -- works closely with the government and must approve political candidates and legislation passed by the parliament. The Expediency Council is responsible for resolving legislative disputes that may arise between parliament and the Guardians Council over legislation.
The president, who is popularly elected for a four-year term, serves as the head of government. The legislative branch is made up of a 290-seat body called the Majlis, whose members are elected by popular vote for four-year terms...(more)
ARCHIVE
RFE/RL's
coverage of Iran
.