Putin To Meet Lukashenka In Sochi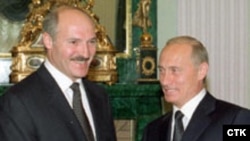 Presidents Lukashenka and Putin (file photo) (CTK) 15 December 2005 -- Officials say President Vladimir Putin has arrived in the Russian Black Sea resort of Sochi for talks later today with Belarus President Alyaksandr Lukashenka.
Russian presidential spokesman Aleksei Gromov said Putin arrived in Sochi from Novosibirsk. No official details have been made available about the agenda for the Putin-Lukashenka meeting.
(ITAR-TASS/AFP/Interfax)