Lukashenka Tells Voters 'You'll Elect Me'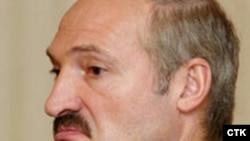 Lukashenka will be standing for his third term in office next March (file photo) (CTK) 4 November 2005 -- Belarusian President Alyaksandr Lukashenka appeared on state TV today and told his nation they would elect him in next year's presidential election.
Lukashenka was shown visiting a town in southeastern Belarus and saying about the next presidential election: "What can you do? You'll elect me."
He added, "And I will work."
Lukashenka was first elected in 1994 and has prolonged his term in office through elections and referendums that some western governments and rights organizations said were flawed.
A vote last year gave him the right to run again in 2006.
(AP)