According to the commission on 14 December, a total of 81,033 ballots were cast in 15 countries around the world on 13 December, with the highest turnouts (more than 7,000 votes cast) reported in Iran, followed by Jordan, Sweden, the United States, the United Kingdom, Syria, and Germany.
More than 11,000 Iraqis cast ballots in Iran, while some 7,000 ballots were cast in Germany. The IECI reported that "all voting operations" on 13 and 14 December were proceeding smoothly.
Meanwhile, firebombs were thrown at a polling station in Stockholm overnight on 14-15 December, dpa reported. The bombs did not ignite the building however, and security was boosted.
Iraqi Election Poster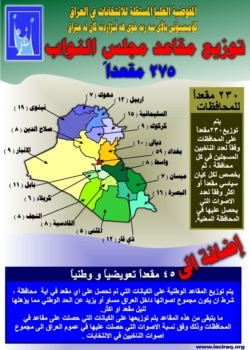 Click on the poster for an enlarged image.
The Iraqi Independent Electoral Commission issued posters in Arabic and the two dialects of Kurdish on the allocation of National Assembly seats by governorate for the 15 December National Assembly election. The poster says, "230 seats for the governorates, as well as 45 compensatory and national seats," while the corresponding map shows the breakdown of seats by governorate.
For more background on the election, click here .



For a complete archive of RFE/RL coverage, background, and analysis of the December 15, 2005, legislative elections, click here.