Anticipating such a hike, the Russian media has in recent days been full of speculation that the Russian-Ukrainian gas dispute could affect military cooperation between the two countries.
In a 12 December report, based on "leaks from Kyiv," "Nezavisimaya gazeta" suggested that Ukraine might be preparing an "asymmetric military-political response." The report claimed that, in retaliation to Russia's "gas pressure," Kyiv may provide U.S. experts access to Ukraine's early-warning radar stations in Sevastopol and Mukacheve.
Such a move could mean Russia losing its early-warning capability against potential attacks from western and southern Europe. After the collapse of the Soviet Union, Russia began paying for intelligence from these radar stations, which are staffed by Ukrainian military personnel.
The "Nezavisimaya gazeta" report also suggested that Ukraine could discontinue a cooperation agreement relating to the maintenance of RS-20 strategic ballistic missiles, which were produced in the Ukrainian city of Dnipropetrovsk and are the main elements of Russia's nuclear strike capability. And, according to the report, Ukraine could also ask Russia to pay a higher price for the privilege of basing its Black Sea Fleet in Sevastopol.
The Ukrainian authorities have categorically denied these reports.
Small Bounty
But many analysts have said that if Ukraine did make such a move the consequences would not be dire.
Speaking to RFE/RL's Russian Service on 12 December, military analyst Aleksandr Golts said that if Ukraine did open up the radar stations to Western experts that could only be a danger if Russia continues to view the United States as a "potential enemy."
"It is the sovereign right of every state to join or not join a bloc, but it is also the sovereign right of every state to select its partners for military-technology cooperation," Russian Defense Minister Sergei Ivanov said.
"Unfortunately, despite repeated statements pertaining to Russian-U.S. friendship, Russian military leaders are shaping their policy in such a way that the United States remains our [Russia's] main enemy," he added.
Ruslan Pukhov, the director of the Moscow-based Center for Analysis of Strategies and Technologies, said on 12 December that nothing "critical" would happen if the United States gained access to the radar stations, Ekho Moskvy reported. "[These] stations were only one part of the Soviet Union's defense system, which already has many gaps with many elements that do not function at all," he said.
Military expert Aleksandr Khramchikhin from the Moscow Institute of Political and Military Analysis said on 13 December that early warning stations in Sevastopol andMukacheve would not be useful for the United States as they are oriented toward western and southern Europe, Radio Mayak reported. Because of the size of the fixed antennas and infrastructure, the stations could not be reconfigured to monitor a new potential threat and would thus be almost useless for the United States.
Mutual Benefits
In 1994, Ukraine became the first post-Soviet country to join NATO's Partnership for Peace program. In November 2002, NATO foreign ministers adopted a NATO-Ukraine Action Plan, which aims to expand bilateral relations and to support Ukraine's reform efforts toward integration with Euro-Atlantic security structures. Many obstacles to NATO entry remain, however: the requirement to reduce the size of the country's military personnel and hostile public perceptions of the alliance.
Relations between Kyiv and Moscow have deteriorated since Ukraine's 2004 Orange Revolution.
The future of the two countries' military cooperation was discussed at a meeting between Russian Defense Minister Sergei Ivanov and his Ukrainian counterpart Anatolii Hrytsenko on 29 November in Moscow.
Before the meeting, many analysts speculated that they would discuss how relations between the two countries would develop if Ukraine joined NATO. Both Ivanov and Hrytsenko, however, denied the issue was on the table.
"As far as aviation and air defense are concerned, we surely can exist without Ukraine," Russian General Anatolii Karnukov said.
At a joint press conference after the meeting, Ivanov said that it was a "possibility" that the Russian and Ukrainian defense industries could cease cooperation, Interfax reported on 29 November. "It is the sovereign right of every state to join or not join a bloc, but it is also the sovereign right of every state to select its partners for military-technology cooperation," Ivanov said.
In the Soviet era, the Ukrainian military-industrial complex specialized in the production of ballistic missiles, aerospace equipment, various classes of naval ships, and tanks like the T-84. In terms of its ballistic missiles, 40-60 percent of the Soviet arsenal was dependent on the production of parts in Ukraine.
How would a possible breakdown of military cooperation affect both countries?
Ukraine also receives many weapons components from Russia. According to lenta.ru on 1 December, Moscow supplies Kyiv with approximately 80 percent of the parts it needs for its defense production. If Ukraine joined NATO, however, it would have the opportunity of getting the components from its new partners in Europe.
Some Russian military experts think that a break in cooperation would have a minimal impact on their country.
The former commander in chief of the Russian Air Force, General Anatolii Karnukov, said that, in the event of a breakdown in cooperation, the Russian defense industry could easily fill the hardware gaps, newsru.com reported on 30 November. "As far as aviation and air defense are concerned, we surely can exist without Ukraine," he said.
Analyst Pukhov said Russia is already making efforts to break its military dependence on Ukraine and, with a large military budget, should be able to do so over a short period of time.
Other experts, however, have cast doubt on such optimism.
In the post-Soviet period, the Ukrainian defense industry has continued to supply Russia with hardware and spare parts and, in 2004, Ukrainian arms exports to Russia amounted to more than $150 million, lenta.ru reported on 1 December.
Interview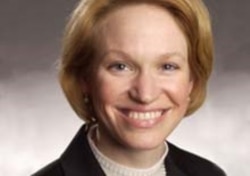 Celeste Wallander directs the Russia and Eurasia Program at the Center for Strategic and International Studies and is a CSIS senior fellow. Before joining CSIS, she was senior fellow at the Council on Foreign Relations in Washington, D.C., and associate professor of government at Harvard University. She is the founder and executive director of the Program on New Approaches to Russian Security. Her recent projects include work on U.S.-Russian security cooperation, the history of Russia and globalization, HIV/AIDS in Russia, and the 2004 Ukrainian presidential election. Among her books are "Swords And Sustenance: The Economics Of Security In Belarus And Ukraine" and "Mortal Friends, Best Enemies: German-Russian Cooperation After The Cold War." She is currently writing "Global Russia: Economics, Politics, And Security."
On November 29, 2005, she spoke with RFE/RL's Ukrainian Service about Russia's energy policies and how Moscow might be seeking to leverage its influence over its neighbors. Listen to the complete interview.
Real Audio Windows Media
To read a transcript of the interview,click here.
Related Articles: