Azerbaijani Opposition Says It Will Defy Ban On Rally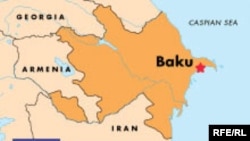 (RFE/RL) 16 December 2005 -- In Azerbaijan, authorities have rejected a request by the opposition to stage a protest rally in central Baku on 18 December.
The Baku municipality has suggested that the rally take place on a suburban motor-racing track. But Azerbaijan's Turan news agency today quoted the campaign headquarters of the Azadliq (Freedom) opposition alliance as saying the demonstration will take place on Baku's central Qalaba (Victory) Square.

Azerbaijani security forces violently dispersed a previous opposition rally on 26 November, arresting and beating up dozens of opposition activists. Several international organizations and the United States have condemned the violence.
The opposition says the 6 November legislative election was fraudulent and demands that a new vote be held. It has decided to boycott the newly elected legislature in protest.

(Turan/Zerkalo/RFE/RL)

A photo gallery of the Azerbaijan opposition protests in Baku on November 9, 2005.