Bulgaria Withdrawing Troops From Iraq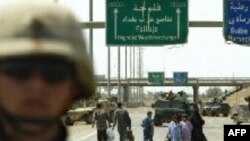 Bulgarians have demanded their troops be pulled out of Iraq (AFP) 17 December 2005 -- Bulgaria has started withdrawing its troops from Iraq.
Defense Ministry spokesman Vladislav Prelezov said all of Bulgaria's 400 troops currently serving in Iraq will be back home by 31 December.
Bulgarian lawmakers approved the move in May in response to strong public anti-Iraq war
sentiments.
(Reuters)

SUBSCRIBE
For a regular review of politics, media, and RFE/RL broadcasts in the western Balkans,
subscribe to "RFE/RL Balkan Report."