Erdogan said he was also once a victim of restrictions on freedom of speech, recalling his jailing in 1997 for reciting a poem with Islamic messages.
But Erdogan denounced EU criticism that Pamuk's trial amounted to a putting Turkey's possible membership in the EU on trial as wel.
Erdogan said today that the EU was trying to pressure Turkey's judiciary. He cautioned the EU that it should await a decision by the Turkish court before passing judgment on the Turkish legal system.
Pamuk is on trial for telling a Swiss newspaper in February that no one in Turkey dared to discuss the killing of some 1 million Armenians 90 years ago and tens of thousands of Kurds over the last two decades.
(AFP)
Examining History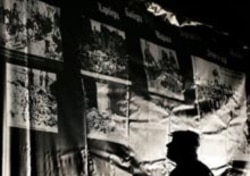 CALL IT GENOCIDE? Questions surrounding the mass killings of Armenians at the beginning of the last century continue to dominate relations between Armenia and Turkey. In April, Ankara proposed conducting a joint Armenian-Turkish investigation into the mass killings and deportations of Armenians during World War I.
Turkish leaders suggested that the two countries set up a joint commission of historians to determine whether the massacres carried out between 1915 and 1917 constituted genocide. Armenia, however, insisted it would continue to seek international recognition and condemnation of what it says was a deliberate attempt at exterminating an entire people....(more)
See also:
Armenians Mark 90th Anniversary Of Start Of Massacres
Armenia: Tragedy Remains On Europe's Political Map
ARCHIVE: For a complete archive of RFE/RL's coverage of Armenia, click here.