U.S. Military Releases Saddam Hussein Associates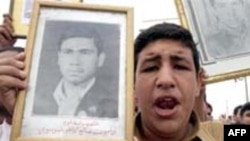 Anti-Saddam Hussein protestor (AFP) 19 December 2005 -- The U.S. military has released a number of high-level officials in the deposed regime of Saddam Hussein.
The military said on 19 December that it originally deemed the detainees to be security threats but no longer considered them to pose a danger.
Lieutenant Colonel Barry Johnson declined to reveal the names of the detainees.
The U.S. military has not said how many detainees were released. Reports variously give the figure as eight to 26.
A report by the satellite channel Al-Arabiya identified two of them as ministers in the government of Saddam Hussein and a third as an associate of Uday Hussein, son of the ousted ruler.
Al-Arabiya named the two former ministers as Humam Abdel Khaleq Abdel, once the head of higher education, and Ahmed Murtada Ahmed Khalil, the ex-transport minister.
Some of the freed detainees have reportedly left Iraq.
(AFP/AP)