Early Iraq Election Results Show Shi'ite Strength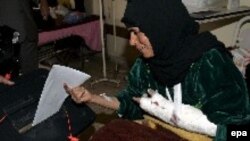 Patient voting in a Baghdad hospital (file photo) (epa) 19 December 2005 -- Election officials say that Iraq's largest Shi'ite party emerged from the 15 December elections as the strongest party in Baghdad.
With nearly 90 percent of votes counted, United Iraqi Alliance has 58 percent of the vote in the Iraqi capital, Iraq's largest electoral district.
The Iraqi electoral commission said today the alliance received over 1.4 million votes.
The second most popular party was the Sunni-backed National Accordance Front, with 452,000 votes, followed by former Prime Minister Iyad Allawi's Iraqi National List, which garnered the support of some 327,000 voters.
(Agencies)

Coalition Images Of The Voting

The Multinational Force in Iraq on December 15, 2005, released official images of the voting in the legislative elections. To view a slideshow of their photographs,
click on the image.
To see RFE/RL's special webpage about the election, click here.