War Crimes Tribunal Releases Yugoslav General For Treatment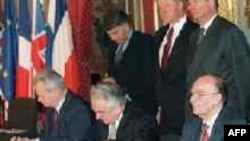 Signing of the Dayton Peace Accords that ended the Balkan wars, 14 December 1995 (AFP) 19 December 2005 -- Yugoslav General Pavle Strugar, sentenced to eight years in prison for his role in the shelling of Dubrovnik in 1991, has been allowed to return home for medical treatment.
The International Criminal Tribunal for the former Yugoslavia (ICTY) announced today that the 72-year-old Strugar was released on 16 December for up to four months to undergo hip surgery in Montenegro.
In January, the UN-based court in The Hague sentenced Strugar to eight years in prison for failing to prevent Yugoslav forces from attacking civilian targets during the shelling of the historic Croatian city of Dubrovnik.
Both the prosecution and Strugar's defense team appealed the ruling but the appeal is still pending.
Strugar, who surrendered to the court in October 2001, was released for nearly two years until the court began hearing his case.
(Reuters/AP/AFP)

SUBSCRIBE
For a regular review of politics, media, and RFE/RL broadcasts in the western Balkans,
subscribe to "RFE/RL Balkan Report."