Shi'ite Coalition Wins In Southern Iraq, Kurdish Coalition In North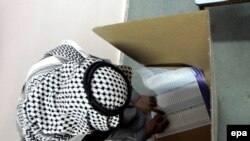 Iraqi man casts his ballot at a polling station in Baghdad, 15 December 2005 (epa) 19 December 2005 -- Iraq's electoral commission says results from 11 provinces show the Shi'ite United Iraqi Alliance with more votes than any other bloc in the Iraqi capital and in six southern provinces.
The United Iraqi Alliance emerged victorious from the 15 December parliamentary elections in the southern provinces of Babil, Karbala, Al-Najaf, Dhi Qar, Maysan, and Al-Basrah, as well as in Baghdad.
Adil al-Lami, head of the electoral committee, said that the Iraqi National List led by former Prime Minister Iyad Allawi came second in all six provinces and third in Baghdad.
The Iraqi Accordance Front led by Sunni leader Adnan al-Dulaimi placed second in Baghdad.
Al-Lami also said that the Kurdish Coalition List came first in the three Kurdish northern provinces of Dahuk, Irbil, and Al-Sulaymaniyah. The Kurdistan Islamic Union came second in two of the three provinces.
(dpa/AP)