The head of Russia's Foreign Intelligence Service, Sergei Lebedev, did not name any specific countries in comments made on 19 December to the news agency Interfax. However, the United States has increased its military presence in former Soviet republics over the years.
Russia has watched warily as Washington deployed forces to Kyrgyzstan and Uzbekistan and strengthened military ties with both Ukraine and Georgia. In 2004, the Western military alliance NATO expanded into the former Soviet Union by accepting Estonia, Latvia, and Lithuania as members, disregarding strong objections by Moscow.
However, Lebedev added that the most serious threats to Russia are currently posed by international terrorism, as well as religious and nationalist extremism.
(AP)
Central Asia Bases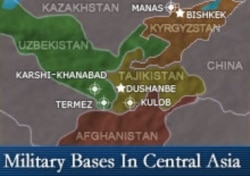 Click on the map for an enlarged image.