The case has drawn particular attention because it marks the first time a Serbian courts has been asked to convict suspected perpetrators of atrocities during the massacre of more than 7,000, mostly Muslim, men and boys when Bosnian Serb troops captured Srebrenica in 1995.
The men were arrested and charged with war crimes after the video was aired on Serbian television in June.
The first defendant to appear before the court today, Slobodan Medic, denied any involvement. He also said that if he had known about the footage at the time, he would have killed the soldier who did the filming.
If convicted, the men could get up to 40 years in prison.
(compiled from agency reports)
Srebrenica Remembered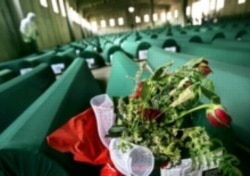 Coffins of Srebrenica victims being prepared for burial in October (AFP)

THE WORST ATROCITY IN EUROPE SINCE WORLD WAR II: The July 1995 massacre of some 7,000 Muslim men and boys by Bosnian Serb fighters near the UN-designated safe haven of Srebrenica is the worst atrocity of its kind in Europe since the end of World War II. Since the incident, the name Srebrenica has become practically synonomous with ethnic cleansing....(more)
See also:
Coming To Grips With The UN's Failure At Srebrenica
Child Of Srebrenica Returns Home For Anniversary Of Massacre