Washington, 20 December 2005 (RFE/RL) -- The compact with Armenia focuses on improving roads and irrigation facilities that aim to help hundreds of thousands of farmers.
The Millennium Challenge Corporation's (MCC) director for Eastern Europe and Asia, Stephen Groff, told RFE/RL that the Armenian government produced a well-focused plan to reduce rural poverty. Groff described the three-part program, which is designed to affect about 750,000 people, or three-quarters of the rural population.
"There is a road-rehabilitation portion, there is an irrigation-rehabilitation portion, and also what we call a water-to-market portion, which is essentially technical assistance to work with the beneficiaries of the irrigation-rehabilitation portion of it to ensure that they can better capture the benefits of improved water delivery," Groff said. "So it would be providing technical assistance in different types of crops and crop rotation patterns and marketing and insuring that they can get their product to market and get a better price."
When complete, it is estimated the project would rehabilitate nearly 1,000 kilometers of rural roads and increase the productivity of about 250,000 farm households.
But in announcing the grant yesterday, the corporation also expressed concern about reports of irregularities in the referendum on reforms to the Armenian Constitution last month.
The chief executive of the U.S. agency, John Danilovich, sent a letter last week to Armenian President Robert Kocharian, citing concerns about political rights and government transparency in Armenia. The letter referred to allegations of fraud, electoral mismanagement, and mistreatment of opposition politicians.
The letter said the U.S. agency expects Armenian officials to take steps to address the concerns or face possible suspension or termination of the aid agreement.
There was no immediate response from Armenian officials. Phone messages seeking comment from Armenia's U.S. Embassy in Washington were not returned.
Groff said MCC officials were concerned that the Armenian government is not acknowledging the accusations of irregularities. "We are not decision makers in the sense of determining whether the allegations themselves are valid or not, but more we feel that the government does certainly have a responsibility to acknowledge the allegations and acknowledge if, indeed, there were any irregularities that took place," he said.
The administration of U.S. President George W. Bush set up the Millennium Challenge Account to give money to poor countries with proper governance. Local officials decide how to use the grants but must show some impact on economic growth. Recipient states must consistently meet a range of good-governance benchmarks.
The independent monitor Freedom House said in its new survey of political rights and civil liberties that Armenia remained in the "partly free" category.
Freedom House also recently listed Armenia as among the weakest performers in political rights among candidate countries for MCC grants. Groff said the U.S. agency will await the Armenian government's response to its letter, and then its board will meet to discuss how to proceed. "If all of these things happen expeditiously, we could be signing the compact with the government of Armenia early next year," he said. "But at this point, it's in the government of Armenia's hands as to how expeditiously that will happen."
The MCC signed a $300 million compact with Georgia's leaders in September. That program also aims at reducing rural poverty and some work has already begun on technical studies for road rehabilitation.
Hear The Interview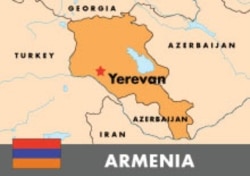 Listen to RFE/RL's complete interview with the Millennium Challenge Corporation's (MCC) Director for Eastern Europe and Asia
STEPHEN GROFF
(about 11 minutes):
Real Audio
Windows Media