Saakashvili Announces Government Reshuffle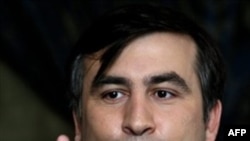 President Saakashvili has presided over a government shakeup this year (file photo) (AFP) 22 December 2005 -- Georgia's Justice Minister Kote Kemularia has been appointed secretary of the National Security Council.
Georgian President Mikheil Saakashvili announced the decision at a council meeting today.
Presidential advisor Levan Choladze had temporarily taken over as National Security Council secretary after Gela Bezhuashvili was appointed foreign minister in October. Central Election Commission Chairman Gia Kavtaradze will replace Kemularia as justice minister.
Also today, Saakashvili appointed deputy ombudsman Bacho Akhalaia to run the Justice Ministry's department in charge of implementing court sentences.
The reshuffle does not need to be approved by parliament.
(Novosti-Gruziya/Imedi TV)