Ukraine Prepares For Arbitration In Gas Row With Russia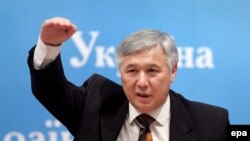 Ukrainian Prime Minister Yekhanurov (file photo) (epa) 23 December 2005 -- Ukraine is preparing to turn to an international arbitrator to resolve its dispute with Russia over the price of natural gas.
Ukrainian Prime Minister Yuriy Yekhanurov said that Kyiv is drafting documents for possible appraisal by the Stockholm Chamber of Commerce, whose Arbitration Institute is internationally recognized as a neutral venue in which to settle commercial disputes.
However, Russia must also agree to arbitration if the case to be taken up .
Earlier on 23 December, Russia's gas giant Gazprom repeated its threat to halt gas deliveries to Ukraine on 1 January unless Ukraine agrees to new prices.
Ukraine currently pays $50 per 1,000 cubic meters of Russian gas. Moscow wants to raise that price by around 400 percent, to reflect world market prices.
(AFP/Reuters)
RFE/RL Belarus, Ukraine, And Moldova Report

SUBSCRIBE For weekly news and analysis on Belarus, Ukraine, and Moldova by e-mail,
subscribe to "RFE/RL Belarus, Ukraine, And Moldova Report."