Russia Ready To Stop Ukraine Gas On 31 December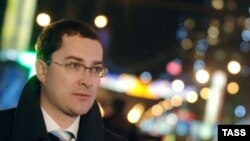 Sergei Kupriyanov (file photo) (ITAR-TASS) 23 December 2005 -- Russia's gas giant Gazprom has held a training session to practice the full suspension of gas supplies to Ukraine.
Gazprom's press secretary Sergei Kupriyanov said in a newscast on Russia's state-run RTR television that the company is "fully prepared to restrict gas supplies to Ukraine after 31 December."
Ukraine has been paying $50 per 1,000 cubic meters in exchange for the transit of Russian gas through its territory to Western Europe.
Russia wants to raise the price more than four times saying the increase was needed to bring gas price to world levels.
(ITAR-TASS/lenta.ru)