Ukrainian Slaves Found On Russian Fishing Boat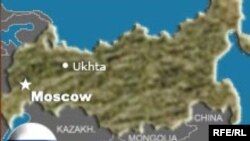 The fishing vessel was detained in the Sakhalin region (RFE/RL) 27 December 2005 -- Authorities in Russia's Far East have detained the captain of a Russian fishing vessel after discovering 25 Ukrainians aboard being used as slave labor.
A spokeswoman for the Sakhalin regional Prosecutor's Office said inspectors discovered the Ukrainians after searching the ship on 17 December. They also found 25 tons of illegally-fished crab.
Spokeswoman Tatyana Kutuzova said the Ukrainians were held by force and made to work at sea for more than six months. She said they were unpaid and deprived of food and water if they refused to work.
A criminal investigation has been opened.
(AFP)