UN Official Rules Out Election Rerun In Iraq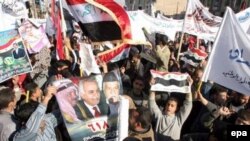 Protests at alleged electoral fraud, 27 December 2005 (epa) 28 December 2005 -- Craig Jenness, the United Nations' adviser to Iraq's Electoral Commission, has rejected calls for a rerun of the 15 December parliamentary elections.
Jenness said the elections were "transparent and credible."
Thousands of Iraqis protested in recent days over alleged vote irregularities in the elections.
Independent Electoral Commission of Iraq Chairman Husayn al-Hindawi meanwhile said some of more than 30,000 ballot boxes might be declared invalid, but he stressed that the numbers were low and would not affect the overall result, Reuters reported.
Iraqi leaders from many sides say efforts have begun to produce a coalition government that would include all the main groups, including representatives of disaffected Sunni communities.
(AP/AFP)