UN Urges Abkhaz Authorities To Protect Ethnic Georgians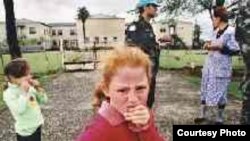 UN observer mission patrol at a displaced persons camp in Georgia's Abkhazia region (UN Photo/Justyna Melnikiewicz) (Courtesy Photo) 28 December 2005 -- A senior United Nations human rights official has called on authorities in Georgia's unrecognized republic of Abkhazia to protect the rights of ethnic Georgians who wish to return to their homes.
Some 300,000 ethnic Georgians fled Abkhazia in 1992-93 during the separatist region's bloody conflict with central authorities in Tbilisi.
Walter Kalin, who is the UN's special representative on the rights of internally displaced people, said in a statement that he is shocked by the misery in which many of those displaced Georgians continue to live today. Kalin visited the region last week.
Kalin also said ethnic Georgians seeking to reclaim their homes in the Abkhaz border region of Gali have been subjected to violence. He called on the Abkhaz authorities to facilitate the return of internally displaced people. Until that goal is accomplished, he called on the government in Tbilisi to provide better care and facilities to refugees under its care.
(Reuters)

SUBSCRIBE For weekly news and in-depth analysis on Armenia, Azerbaijan, Georgia, and Russia's North Caucasus by e-mail,
subscribe to "RFE/RL Caucasus Report."