Russia: Many Recovering, But Chechen Illness Remains A Mystery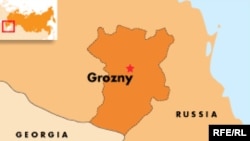 (RFE/RL) There appear to be no new cases of the mysterious illness that recently afflicted dozens of Chechen villagers. But it remains unclear what caused some 80 people -- primarily teenage schoolgirls -- to suddenly suffer tremors, fainting spells, panic attacks, and shortness of breath.
Prague, 29 December 2005 (RFE/RL) -- Two weeks after the first illnesses were reported in Chechnya's northeastern Shelkovskaya Oblast, many of those affected have left hospital and are gradually recovering. But it is still unclear what was behind the mystery illness.
Sultan Alimkhadzhiev, Chechnya's deputy health minister, says just 12 children are still receiving treatment in the pediatric hospital in Grozny. But he says consultations about the illness have yet to reach a definitive conclusion about its source.
Unknown Origins
The debate is centered on two rival theories.
Was the illness a kind of contagious manifestation of psychological trauma? Or was it the result of environmental or chemical poisoning, possibly resulting from the ongoing military conflict in the region?
Some medical experts, including Russia's chief psychiatric official, have embraced the notion that the illness is the product of long-term exposure to stress from Russia's two wars in the separatist republic.
Tatyana Dmitrieva, the director of the Serbskii National Research Center for Social and Forensic Psychiatry, said that similar cases were recorded following the 1988 earthquake in Spitak, Armenia, and the 11 September 2001 terrorist attacks in the United States.
No experts have offered explanations why an illness induced by war-related stress would suddenly strike a single region in a republic that has endured military conflicts for over a decade.
But Dmitrieva did say teenage girls were most affected by the illness because the "female juvenile character has a high level of suggestibility."
Ethylene Glycol
But local residents dismiss the theory. Sacita Bataeva is the mother of one of the girls affected by the illness: "I don't agree with this diagnosis. A lot of other people don't either. How can it be that they all came down with one and the same illness, and all at the same time? It seems to me that [medical experts] are speaking off the top of their heads without taking time to figure out the illness itself. After all, every mother here is taking care of her own child. We know what we see. In Chechnya we use different types of weapons. Couldn't they be to blame for this strange illness? The war here continues to this day, despite what they say about it having ended. Sometimes children are woken up at night by fear, when they hear shooting nearby. That's true. And the illness can also be related to that. But not entirely."
Forensic examiners in the neighboring republic of Daghestan reported last week that they had found traces of ethylene glycol in blood samples taken from several of the affected girls.
Ethylene glycol is a toxic liquid chemical used in automobile antifreeze. Doctors in Daghestan speculated that it may have been ingested after seeping into the groundwater.
Akhmed Zakaev, a representative of the republic's separatist leadership, has accused Russia of attempting to cover up the true source of the illness.
Earlier this week, Zakaev told The Associated Press from London he was "certain" federal forces were testing a new weapon, and that the mass illness was a result of those tests.
He said if Russia has nothing to hide, it should allow independent experts to establish the cause of the illness.
Zakaev called on the Hague-based Organization for the Prohibition of Chemical Weapons to conduct an "urgent international investigation" into the incident.
Regional authorities had earlier speculated the poisoning had been caused by exposure to nerve gas or another toxic agent.
The newly elected Chechen parliament discussed the issue during a session on 23 December.
The head of the parliamentary health committee, Said Yakhikhadzhiyev, said an independent probe was needed to ensure that Chechens did not view the investigation as a whitewash.
But at least one deputy blamed the Russian military for the illness, saying Chechnya has been a "testing ground for all kinds of weapons" for the last 15 years.
(RFE/RL's North Caucasus Service contributed to this report.)


RFE/RL's complete coverage of Russia's war-torn Republic of Chechnya.
CHRONOLOGY
An
annotated timeline
of the Chechnya conflict.