Uzbek Leader Denounces GUUAM Documents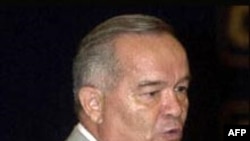 Uzbek President Karimov (file photo) (AFP) 29 December 2005 -- President Islam Karimov of Uzbekistan has underlined his country's rejection of the GUUAM grouping by denouncing a number of key documents that Uzbekistan once signed.
Uzbekistan joined the group in 1999 but suspended its membership in 2002, arguing the grouping had become a political organization.
Georgia, Ukraine, Azerbaijan, and Moldova formed the group, then known as GUAM, in 1997 as a way of countering Russia's influence in the region. In April 2005, the group decided "to fight for democracy from the Black Sea to the Baltic Sea," prompting Uzbekistan to withdraw from the organization.
By condemning a range of economic agreements, Karimov indicated that Uzbekistan does not intend to meet its obligations under these agreements.
The decree in which Karimov rejected these agreements was signed on 21 December but only made public on 29 December.
(ITAR-TASS)