American Lawyer Joins Gotovina Defense Team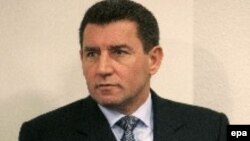 Gotovina at the UN Tribunal in The Hague (file photo) (epa) 29 December 2005 -- A U.S. lawyer who once gathered evidence against Saddam Hussein will help defend former Croatian General Ante Gotovina against war crimes charges.
Gotovina's defense team said today in Zagreb that attorney Greg Kehoe would be a great help in efforts to prove the former general's innocence.
Gotovina was arrested earlier this month in Spain and faces charges of committing atrocities against ethnic Serbs during the 1991-1995 war in Croatia.
Kehoe once worked for prosecutors at the UN court at The Hague.
(AFP/AP)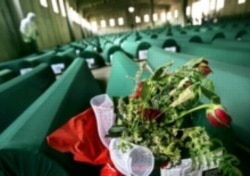 Coffins of Srebrenica victims being prepared for burial in October (AFP)

THE WORST ATROCITY IN EUROPE SINCE WORLD WAR II: The July 1995 massacre of some 7,000 Muslim men and boys by Bosnian Serb fighters near the UN-designated safe haven of Srebrenica is the worst atrocity of its kind in Europe since the end of World War II. Since the incident, the name Srebrenica has become practically synonomous with ethnic cleansing....(more)
See also:
Coming To Grips With The UN's Failure At Srebrenica
Child Of Srebrenica Returns Home For Anniversary Of Massacre