Iraqi Infant Arrives In U.S. For Medical Treatment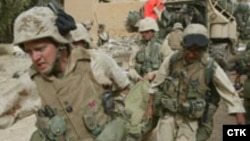 U.S. soldiers in action in Iraq (file photo) (CTK) 1 January 2006 -- An Iraqi baby whose cause was taken up by some U.S. soldiers has arrived in the United States to receive medical treatment for a life-threatening birth defect.
The three-month-old girl -- known widely as Baby Noor -- flew in to the city of Atlanta, in the southern state of Georgia, with her father and grandmother on 31 December and was taken to a pediatric hospital for examination.
The infant has been diagnosed with spina bifida, a birth defect in which the backbone and spinal cord have not completely closed, leaving her vulnerable to life-threatening infections or disorders.
Reports say she is expected to undergo surgery to correct the problem in a week or so.
U.S. soldiers led the way in arranging for Baby Noor to travel to the United States for treatment after they learned of her ailment following a raid in December on her home in Abu Ghurayb, west of the Iraqi capital Baghdad.
(Reuters/AP/AFP/dpa)


SUBSCRIBE For weekly news and analysis on Iraq by e-mail,
subscribe to "RFE/RL Iraq Report."