Austria Promises 'New Momentum' As EU President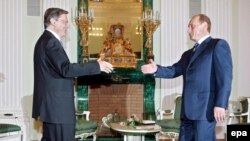 Austrian Chancellor Wolfgang Schuessel (left) met with Russian President Putin on 2 December in Moscow (epa) 1 January 2006 -- Austria assumed the European Union presidency today, with Chancellor  Wolfgang Schuessel promising new momentum after what he called a "terrible year" that eroded trust in the 25-member bloc.
In an interview with the Vienna daily "Die Presse," Schuessel described the EU presidency as "an uncomfortable seat." He said Vienna has an ambitious program, but cautioned that six months aren't enough to bring about momentous transformations.
Austria, which assumed the presidency from Britain, has said it hopes to help restore economic growth in Europe and try to resurrect the bloc's draft constitution after the document received two "no" votes in referendums in France and the Netherlands.
Austria will also guide a decision on whether Romania and Bulgaria should join the EU in 2007 or later, and consider proposals to open accession talks with Croatia and Turkey.
(Reuters/dpa/AFP)