Ashdown, who retires early next year, told an OSCE meeting in Vienna that, in particular, the two organizations will carry much of the responsibility for ensuring that Bosnia and Herzegovina achieves its full potential.
As the main priorities for Bosnia in 2006, he named reform of the public administration and the strengthening of civil society. He also said stressed that both organizations should play a role in educating voters and mobilizing young Bosnians.
Ashdown said Bosnia's education system must become "a bulwark against ethnic, religious, cultural and any other kind of prejudice or segregation."

10 Years Of Dayton
On 21 November 2005, to mark the 10th anniversary of the Dayton agreement, a major conference on the past and future of Bosnia-Herzegovina was held in Washington, D.C. "Bosnia can't remain a fractured state and think that it can become part of the unified Europe or a unified NATO," U.S. Undersecretary of State Nicholas Burns told the conference. "It's that simple. It's a great challenge. We're not asking the political leaders to decide on all the details, they will be hard fought and they will be argued over for months to come. We're asking them tomorrow to state 'our ambition is a future unified state, we declare ourselves united in seeking that ambition. We will negotiate the details of that in the coming months.'" (more)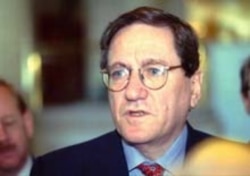 Listen to former U.S. envoy Richard Holbrooke's complete remarks to the 21 November conference:
Real Audio Windows Media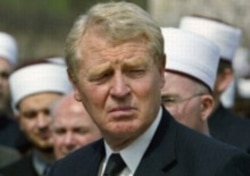 Listen to excerpts from the conference remarks of Paddy Ashdown, the international community's high representative in Bosnia:
Real Audio Windows Media