Iran Shuts Down Two Media Publications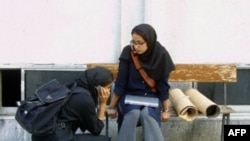 The women's magazine was banned before it started printing (file photo) (AFP) 2 January 2006 -- The Iranian government today ordered the temporary closure of a daily newspaper and banned a planned women's publication.
The Culture Ministry said the cases of the two publications -- "Asia" and "Nour-e Banovan" -- were sent to court.
No reason was given for the move.
But Reuters quotes a journalist at "Asia" as saying the paper had been given a warning for printing photographs of women considered to have been improperly dressed.
"Nour-e Banovan" has not yet been published yet.
(Reuters/AFP)