The U.S. daily quoted a lawyer for the ousted Iraqi leader as saying Hussein made the comments last month during a break in his trial.
Lawyer Issam Ghazzawi said he and another lawyer, former U.S. Attorney General Ramsey Clark, raised the possibility that Hussein might be sentenced to death if convicted of war crimes.
Ghazzawi said Hussein told them: "I am the commander in chief.... I prefer it to be by firing squad."
Hussein's trial on charges of crimes against humanity is set to resume on 24 January.
(AFP/washingtontimes.com)
The Presiding Judge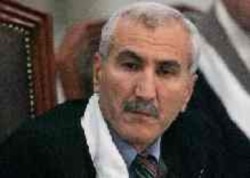 On November 11, 2005, RFE/RL's Radio Free Iraq (RFI) spoke with Iraqi Special Tribunal presiding Judge
Rizgar Muhammad Amin
about the trial of ousted Iraqi President Saddam Hussein and seven of his associates...
(more)