Prague, 25 December 2005 (RFE/RL) -- From his office in Amman, Jordan, the lawyer Khalil al-Dulaymi is talking to the media, taking his client's case to the court of public opinion.
Al-Dulaymi is saying what the former Iraqi leader is saying -- that Hussein has been tortured at the hands of his American jailors and he has filed a complaint with the court.
He called yesterday for Hussein to be examined by what he called "an independent medical committee."
"We are asking the court, and we are going to present it with a written request in the upcoming two days, to get the President [Saddam Hussein] examined by an independent medical committee that does not include lawyers or any of his enemies, to assess his situation," al-Dulaymi. "There are torture marks on the body of the president, and during his arrest millions of Iraqis and Arabs saw the marks of torture on his face."
But U.S. State Department spokesman Sean McCormack is saying the Hussein's statements are just not true. "The Iraqi investigative judge spoke to this, that these allegations are bogus."
On 22 December, Hussein also said he can show proof on his body that he was tortured. "I will say in front of you that I have written down the injuries I had in front of the three medical teams, or at least two medical teams, to be exact, and after eight months, some of these injuries have gotten better, others are still there after three years. We do not lie, the White House is lying."
The U.S. State Department spokesman suggests that it is ironic that one of the biggest mass murderers of the 20th century is claiming he was tortured. McCormack says that while the media is giving attention, on the air and in print, to Hussein's charges, the painful stories his victims are telling in court are getting pushed aside: "The real story is, and the voices that need to be heard, are the victims of Saddam Hussein. Saddam Hussein was one of the most violent mass murderers of this century or any other century, and what you have now is an opportunity for the victims of Saddam Hussein to detail the tyranny, the oppression, the brutality, the violence of this regime. That's what's on trial here."
Hussein is currently on trial, along with seven others, for the killing of 148 people in the mainly Shi'ite Iraqi village of al-Dujayl in 1982, following an attempted assassination. They could face the death penalty if convicted. Hussein may still face other charges for actions he took while he was the leader of Iraq.
The trial was adjourned on 22 December and is expected to resume on 24 January.
(Reuters)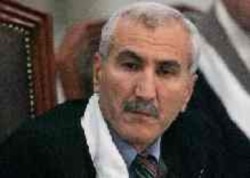 On November 11, 2005, RFE/RL's Radio Free Iraq (RFI) spoke with Iraqi Special Tribunal presiding Judge
Rizgar Muhammad Amin
about the trial of ousted Iraqi President Saddam Hussein and seven of his associates...
(more)