The former Iraqi dictator refused to attend the last session on 7 December after dismissing the court as unfair.
But his lawyer says Hussein will be in court today. The former Iraqi leader is being tried along with seven others by Iraq's Special Tribunal.
The trial is being held inside Baghdad's Green Zone in a heavily guarded courtroom.
The only charge against Hussein so far is the killing of more than 140 men in the mostly Shi'ite town of Al-Dujayl after a failed assassination attempt against him.
(compiled from agencies)
The Presiding Judge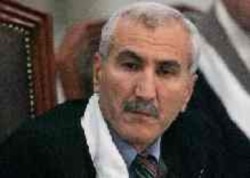 On November 11, 2005, RFE/RL's Radio Free Iraq (RFI) spoke with Iraqi Special Tribunal presiding Judge
Rizgar Muhammad Amin
about the trial of ousted Iraqi President Saddam Hussein and seven of his associates...
(more)