At the trial on 21 December, Hussein accused the United States of torturing and beating him.
The same day, Hussein's allegations were rejected by the White House, which called them "preposterous."
White House spokesman Scott McClellan said Hussein is being treated the exact opposite of the way his regime treated those whom he imprisoned and tortured simply for expressing their opinions.
Hussein made the remarks during his trial for a massacre of 148 people in 1982. He said his seven co-defendants had been beaten as well.
The judge has ordered an investigation.
The court has indicated the hearings are likely to be adjourned for a month after the 22 December session.
Hussein boycotted the last hearing two weeks ago after challenging the legality of the tribunal and telling the judge to "go to hell."
(compiled from agency reports)
The Tragedy At Al-Dujayl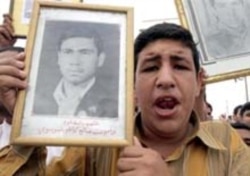 A protester in Baghdad carries a picture of a relative killed at Al-Dujayl (AFP file photo)


READ
Former Iraqi dictator
SADDAM HUSSEIN
and seven of his associates went on trial on October 19, 2005, on charges of crimes against humanity for the regime's role in the deaths of 148 residents from the town of Al-Dujayl, and the imprisonment of 1,500 others following a botched assassination attempt against Hussein there on July 8, 1982. Following the arrests and deportations, the regime leveled the town...
(more)
See also:
Al-Dujayl Native Tells Her Story
Al-Dujayl Survivor Says 'We Want The Deserved Punishment For The Guilty