The former Iraqi leader -- who had refused to attend the previous session -- was in the courtroom today.
Hussein seven former aides are on trial over the deaths of more than 140 Shi'ite Muslims following a 1982 assassination attempt against him in the town of Al-Dujayl, north of Baghdad.
Hussein's codefendants were also in the courtroom today.
The trial is being heard by Iraq's Special Tribunal in a heavily guarded courtroom inside Baghdad's Green Zone.
(AFP/Reuters)
The Presiding Judge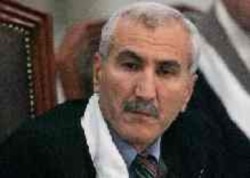 On November 11, 2005, RFE/RL's Radio Free Iraq (RFI) spoke with Iraqi Special Tribunal presiding Judge
Rizgar Muhammad Amin
about the trial of ousted Iraqi President Saddam Hussein and seven of his associates...
(more)