Iraq Vote Results Expected Next Month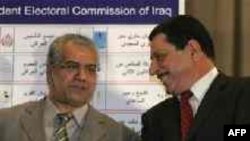 Independent Electoral Commission in Iraq Chairman Hussein Hindawi (left, in file photo) (AFP) 20 December 2005 -- Iraq's electoral commission said today final results from mid-December's parliamentary elections will not be ready until early January.
A commission official, Farid Ayar, told journalists that the results will be ready after looking into more than 1,000 allegations of violations.

Meanwhile, the commission's head, Hussein Hindawi, said the alleged violations are minor and would not affect the overall results in any province.

Preliminary results have so far shown voters divided along ethic and religious lines, with the Shi'ite bloc ahead with a commanding lead.

But the head of Iraq's leading Sunni Arab coalition, the National Concord Front, Adnan al-Dulaimi, complained earlier today of election fraud and called for a new ballot in the capital.