China Closing Thousands Of Mines In Safety Crackdown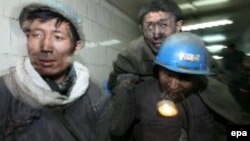 A rescue worker carries a trapped miner out of the Dongfeng Coal Mine following a blast which killed at least 134 in Qitaihe City of northeast China's Heilongjiang Province, November 2005 (epa) 5 January 2006 -- The Chinese government is closing 5,290 coal mines in a safety crackdown. More than 5,000 Chinese coal miners die each year, making the Chinese mining industry the deadliest in the world.
Despite a series of safety campaigns launched by the government in recent years, death tolls are largely unchanged.
Fires, explosions, and other disasters are often blamed on managers who ignore safety rules, sometimes with official collusion, or fail to install required ventilation and other equipment.
(AP)
RFE/RL's World: 2005 In Pictures


A slideshow of images related to the top news stories of 2005 from throughout RFE/RL's broadcast region with links to RFE/RL's reporting.
See also:
2005 In Review: Central Asia Witnesses Revolution, Continued Crackdown
2005 In Review: Does The Presence Of Western Election Observers Make A Difference?
2005 In Review: The Geopolitical Game In Central Asia
2005 In Review: Migrants, Refugees Victims Of Incoherent Laws In Post-Soviet States
2005 In Review: The Transformation Of Television In Russia
2005 In Review: Russia's Centralization Gathers Pace
2005 In Review: A Year Of Hopes, Disappointments For Afghans And Iraqis