China Prosecutes 96 Officials For Coal-Mine Deaths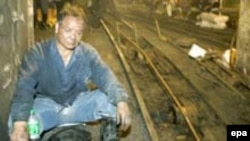 A Chinese coal miner rests during a rescue operation this summer (epa) 23 December 2005 -- China's government said today that two deputy provincial governors have been dismissed and 96 officials blamed for coal-mine accidents have been prosecuted.
Li Yizhong, the director of China's industrial safety agency, told a news conference that the local and provincial officials were accused of failure to enforce safety rules or acted with supervisors at mines to avoid installing required safety equipment.
Li said another 126 officials were demoted for their roles in mining accidents.
China has the worst record in the world for mining accidents. About 5,000 people are killed in Chinese mines every year.
(AP)