Iran To Resume Nuclear Research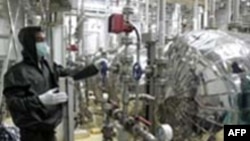 An Iranian uranium-conversion facility in Isfahan (file photo) (AFP) 9 January 2005 -- Iran has confirmed it is resuming nuclear-fuel research today, despite Western warnings that this could jeopardize diplomatic efforts to end the international dispute over Tehran's nuclear program.
Government spokesman Gholam-Hussein Elham said research activities will resume under the supervision of the International Atomic Energy Agency, the UN nuclear watchdog.
Europe has warned Iran that the move will jeopardize any resumption of wider talks on ending the crisis over the aims of Tehran's nuclear program. Washington accuses Iran of seeking to build nuclear weapons.
Elham's announcement came after talks between Russia and Iran on a proposed compromise to end the row over uranium enrichment broke off without result.
(AFP/Reuters)

THE COMPLETE PICTURE: RFE/RL's complete coverage of controversy surrounding Iran's nuclear program.
CHRONOLOGY
An
annotated timeline
of Iran's nuclear program.