Sunni Politician Denounces Attack against Iraqi Shi'ites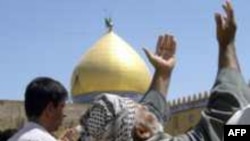 Prayers at the Al-Kufah mosque in Iraq (file photo) (AFP) 10 January 2006 -- A senior Sunni Arab politician today denounced a suicide bomb attack on a Shi'ite mosque that killed dozens of people last week.
Harith al-Ubaidi, from the Sunni Iraqi Accordance Front, also said Iraqis would "live as brothers" if the U.S. led coalition left Iraq.
Ubaidi was giving a sermon at the Umm Al-Qura mosque in Baghdad on the first day of the Islamic Eid al-Adha festival, or Feast of the Sacrifice.
After the prayers, hundreds of worshippers protested a 7 January raid on the mosque by U.S. and Iraqi forces that resulted in six people being detained for questioning.
The military operation was linked to the kidnapping of U.S. reporter Jill Carroll in a nearby district on the same day. Carroll's interpreter, Allan Enwiyah, was shot dead during the abduction.
A U.S. Army spokesman, Lieutenant-Colonel Barry Johnson, said an Iraqi civilian had indicated that activities related to the kidnapping were being carried out inside the mosque.
A powerful Sunni organization, the Committee of Muslim Scholars, confirmed that one of its members, Yunis Aikali, and five of the mosque's guards had been arrested.
(AFP/Reuters)